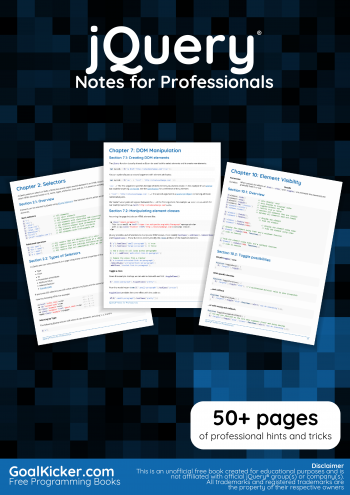 jQuery® Notes for Professionals book
If you found this jQuery® book useful,
then please share it ❤
Chapters
Getting started with jQuery
Ajax
Selectors
document-ready event
DOM Manipulation
DOM Traversing
Element Visibility
Events
Plugins
Prepend
Append
Getting and setting width and height of an element
CSS Manipulation
Attributes
jQuery .animate() Method
jQuery Deferred objects and Promises
Checkbox Select all with automatic check/uncheck on other checkbox change
Each function
Example book pages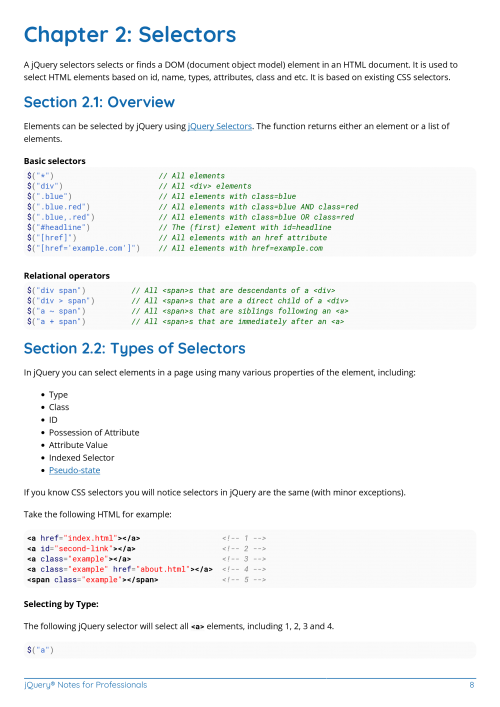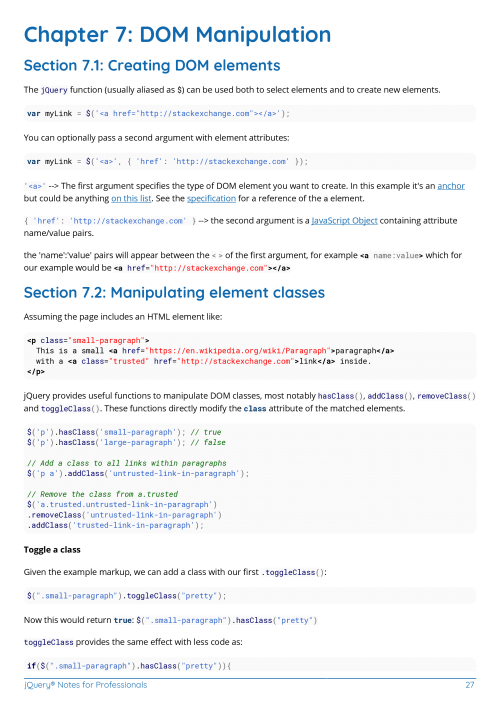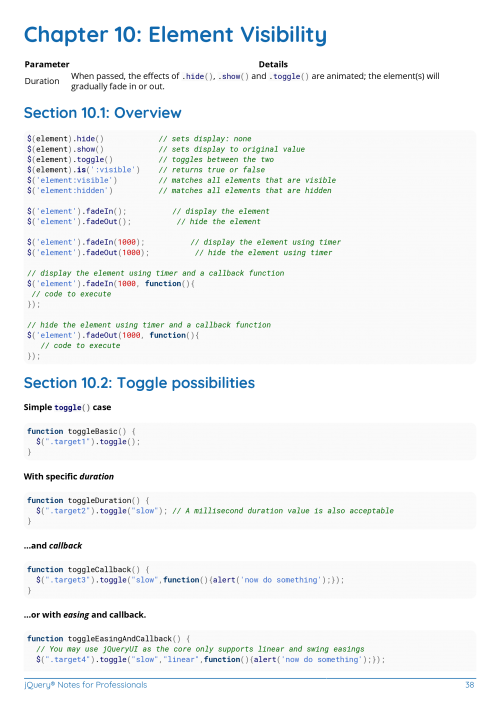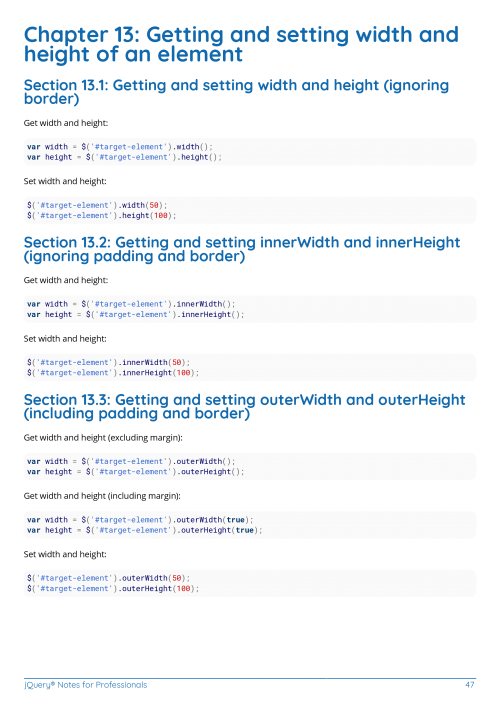 What people are saying about Notes for Professionals books
From time to time, one comes across a bundle that is worth exploring. Today, a series of books called Programming Notes for Professionals over at http://books.goalkicker.com/ Have fun exploring #freeBooks #technology #bundle
Very good reference to learn new programming languages. There are books for almost everything
Great collection of resources.
Some good books on programming!!
A lot of effort went into this, I also took a look at the languages I'm familiar with. They even have screenshots of the results and provide an excellent way of showing exactly what you would input and see. I really appreciate the fact that they are pdf that you can save and don't have to rely on an internet connection.
Super useful for reference, many thanks for whoever did this. Instead of browsing, clicking, digging infinitely, now I have ONE in one place.
The jQuery® Notes for Professionals book is compiled from Stack Overflow Documentation, the content is written by the beautiful people at Stack Overflow. Text content is released under Creative Commons BY-SA. See credits at the end of this book whom contributed to the various chapters. Images may be copyright of their respective owners unless otherwise specified
Book created for educational purposes and is not affiliated with jQuery® group(s), company(s) nor Stack Overflow. All trademarks belong to their respective company owners
66 pages, published on April 2018
To support continued development and improvements to this book, please consider a small bitcoin donation: 1H63m55bw6KDYUaKU1mYLGrzDf4wcrVzhX