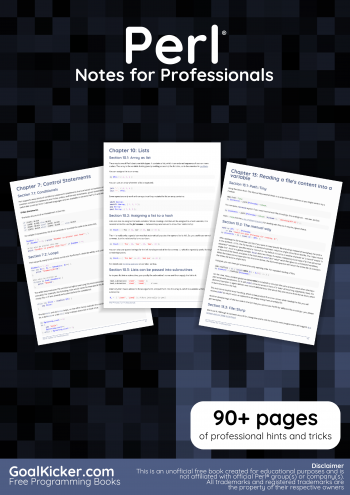 Perl® Notes for Professionals book
If you found this Perl® book useful,
then please share it ❤
Chapters
Getting started with Perl Language
Comments
Variables
Interpolation in Perl
True and false
Dates and Time
Control Statements
Subroutines
Debug Output
Lists
Sorting
File I/O (reading and writing files)
Reading a file's content into a variable
Strings and quoting methods
Split a string on unquoted separators
Object-oriented Perl
Exception handling
Regular Expressions
XML Parsing
Unicode
Perl one-liners
Randomness
Special variables
Packages and modules
Install Perl modules via CPAN
Easy way to check installed modules on Mac and Ubuntu
Pack and unpack
Perl commands for Windows Excel with Win32::OLE module
Simple interaction with database via DBI module
Perl Testing
Dancer
Attributed Text
GUI Applications in Perl
Memory usage optimization
Perl script debugging
Perlbrew
Installation of Perl
Compile Perl cpan module sapnwrfc from source code
Best Practices
Example book pages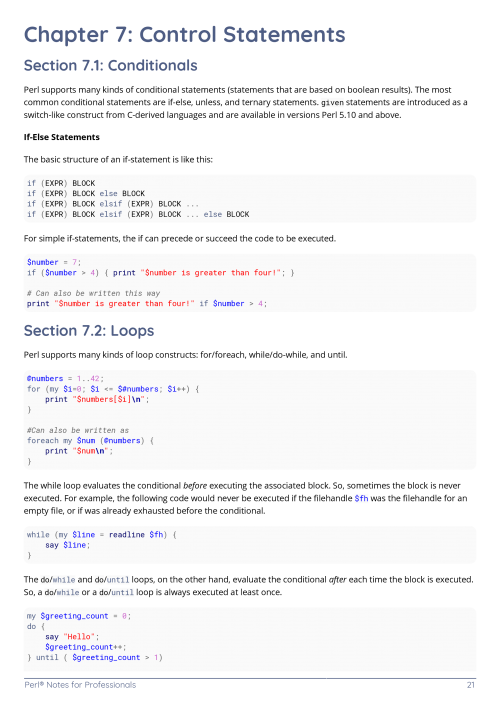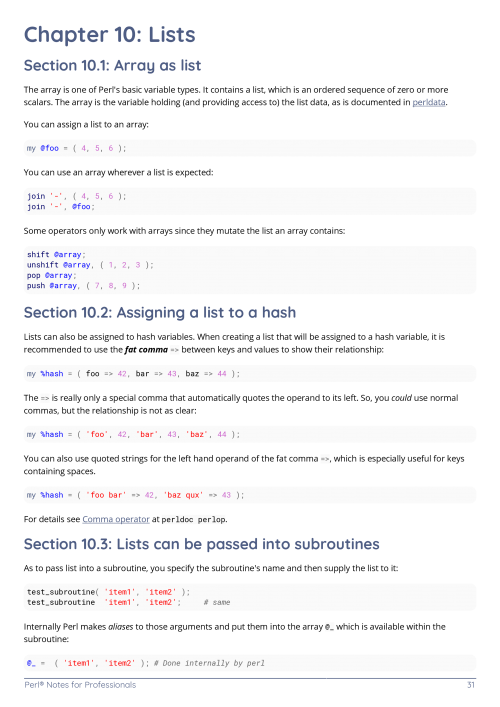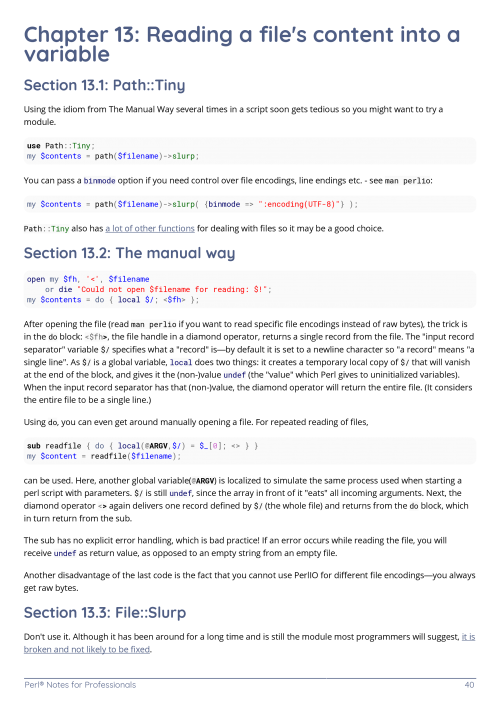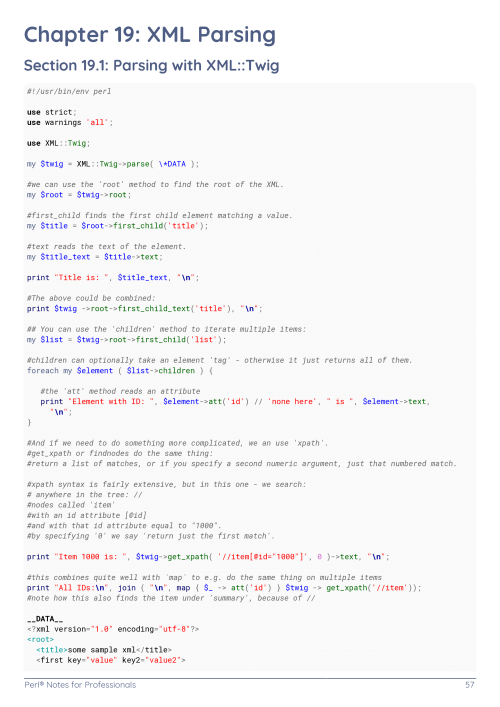 What people are saying about Notes for Professionals books
Really nice and condensed collection, thanks to all co-authors
Great resource for a wide array of topics!
A lot of effort went into this, I also took a look at the languages I'm familiar with. They even have screenshots of the results and provide an excellent way of showing exactly what you would input and see. I really appreciate the fact that they are pdf that you can save and don't have to rely on an internet connection.
Big thank you! Ended up downloading all of them as they touch on various different areas I work in daily. Big thanks for sharing, and even bigger thanks to those who wrote them.
This is perfect for me who's learning to code!
Are you a novice, a little above novice, a pro or you want to start coding, then you need to check out these materials.
The Perl® Notes for Professionals book is compiled from Stack Overflow Documentation, the content is written by the beautiful people at Stack Overflow. Text content is released under Creative Commons BY-SA. See credits at the end of this book whom contributed to the various chapters. Images may be copyright of their respective owners unless otherwise specified
Book created for educational purposes and is not affiliated with Perl® group(s), company(s) nor Stack Overflow. All trademarks belong to their respective company owners
109 pages, published on April 2018
To support continued development and improvements to this book, please consider a small bitcoin donation: 1H63m55bw6KDYUaKU1mYLGrzDf4wcrVzhX