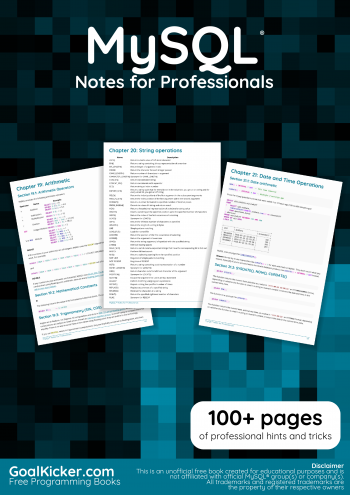 MySQL™ Notes for Professionals book
If you found this MySQL™ book useful,
then please share it ❤
Chapters
Getting started with MySQL
Data Types
SELECT
Backticks
NULL
Limit and Offset
Creating databases
Using Variables
Comment MySQL
INSERT
DELETE
UPDATE
ORDER BY
Group By
Error 1055: ONLY_FULL_GROUP_BY: something is not in GROUP BY clause ...
Joins
JOINS: Join 3 table with the same name of id.
UNION
Arithmetic
String operations
Date and Time Operations
Handling Time Zones
Regular Expressions
VIEW
Table Creation
ALTER TABLE
Drop Table
MySQL LOCK TABLE
Error codes
Stored routines (procedures and functions)
Indexes and Keys
Full-Text search
PREPARE Statements
JSON
Extract values from JSON type
MySQL Admin
TRIGGERS
Configuration and tuning
Events
ENUM
Install Mysql container with Docker-Compose
Character Sets and Collations
MyISAM Engine
Converting from MyISAM to InnoDB
Transaction
Log files
Clustering
Partitioning
Replication
Backup using mysqldump
mysqlimport
LOAD DATA INFILE
MySQL Unions
MySQL client
Temporary Tables
Customize PS1
Dealing with sparse or missing data
Connecting with UTF-8 Using Various Programming language.
Time with subsecond precision
One to Many
Server Information
SSL Connection Setup
Create New User
Security via GRANTs
Change Password
Recover and reset the default root password for MySQL 5.7+
Recover from lost root password
MySQL Performance Tips
Performance Tuning
Reserved Words
Example book pages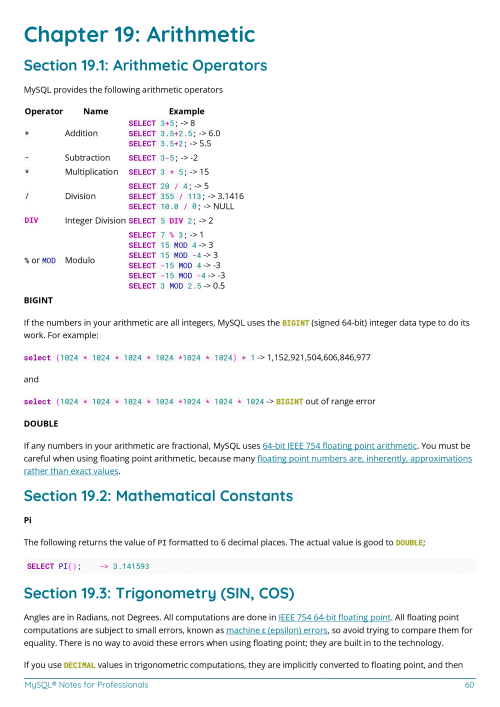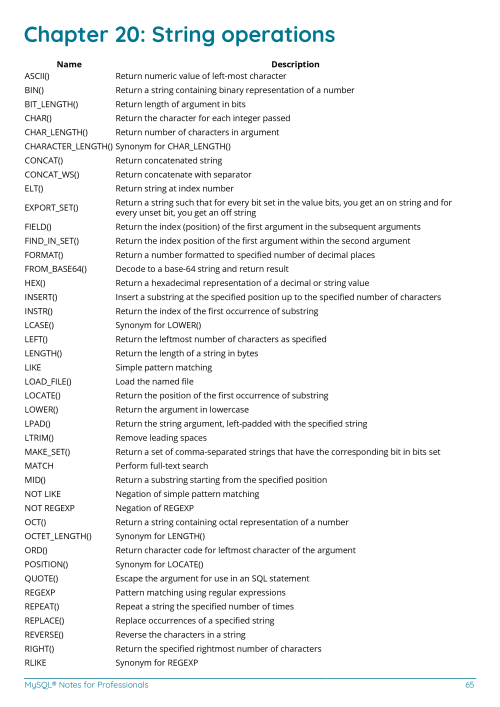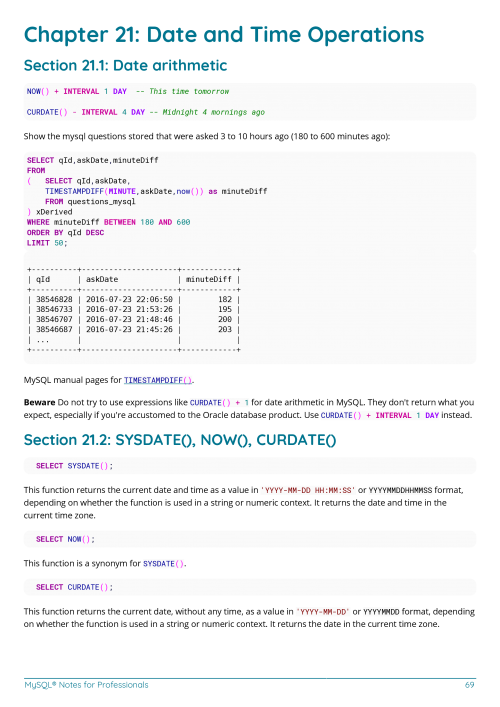 What people are saying about Notes for Professionals books
Very good reference to learn new programming languages. There are books for almost everything
Whoah, this is awesome! Thanks!!!!!!
Super useful for reference, many thanks for whoever did this. Instead of browsing, clicking, digging infinitely, now I have ONE in one place.
This is the best resources I have come across. Thank you for sharing!
Are you a novice, a little above novice, a pro or you want to start coding, then you need to check out these materials.
Wow. This is awesome. Thank you!
The MySQL™ Notes for Professionals book is compiled from Stack Overflow Documentation, the content is written by the beautiful people at Stack Overflow. Text content is released under Creative Commons BY-SA. See credits at the end of this book whom contributed to the various chapters. Images may be copyright of their respective owners unless otherwise specified
Book created for educational purposes and is not affiliated with MySQL™ group(s), company(s) nor Stack Overflow. All trademarks belong to their respective company owners
199 pages, published on April 2018
To support continued development and improvements to this book, please consider a small bitcoin donation: 1H63m55bw6KDYUaKU1mYLGrzDf4wcrVzhX